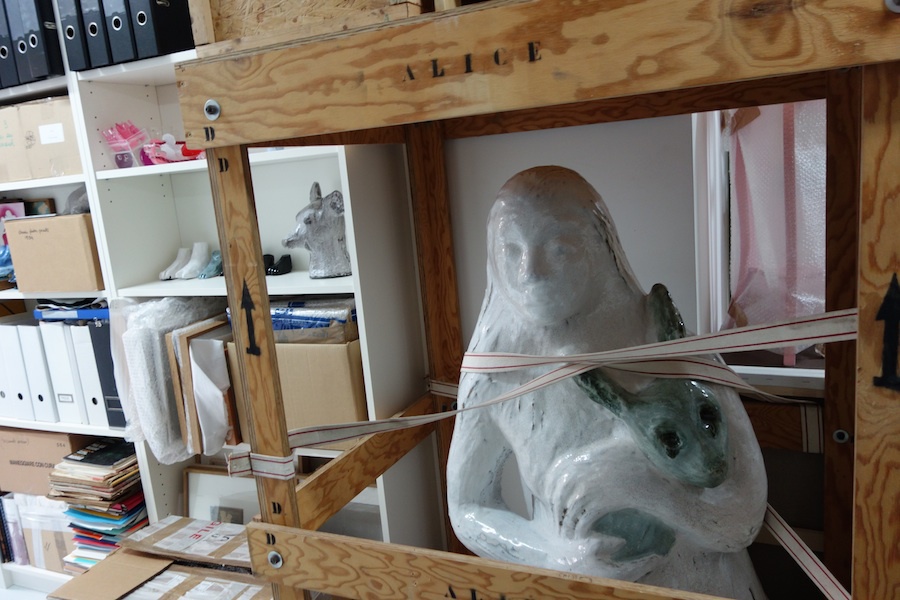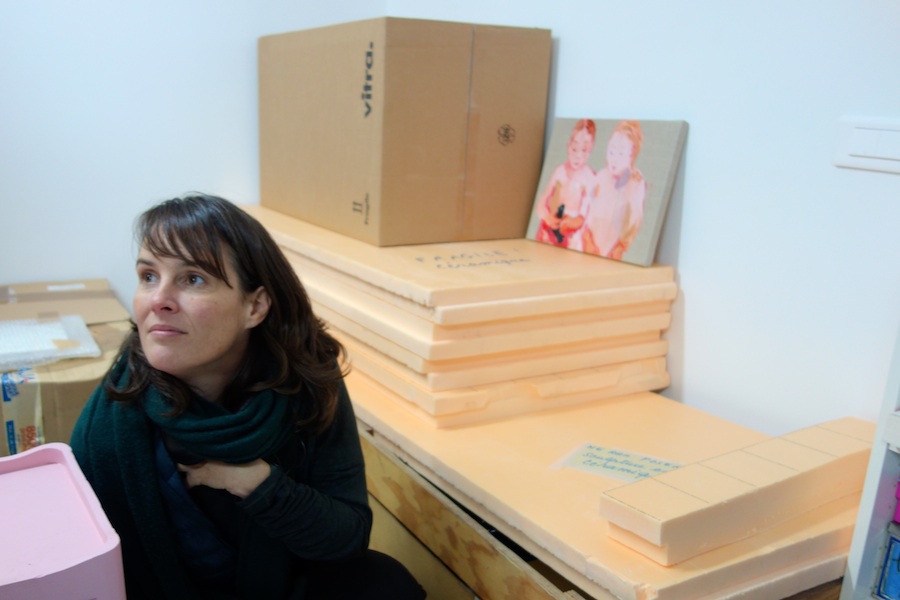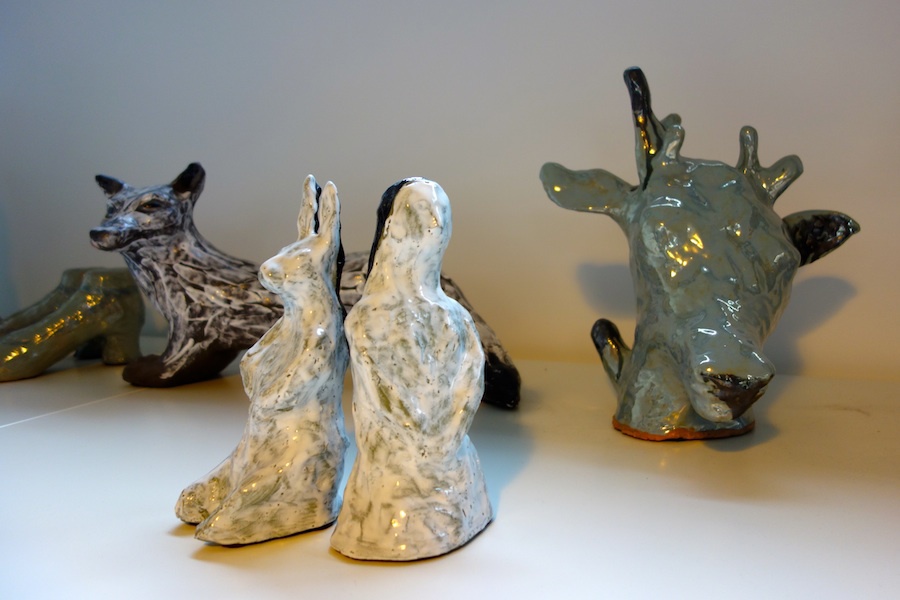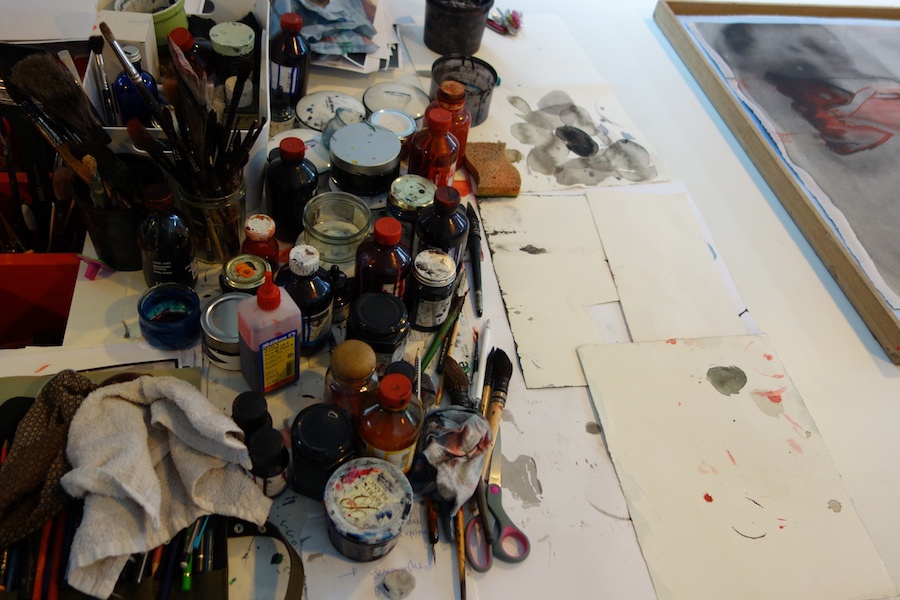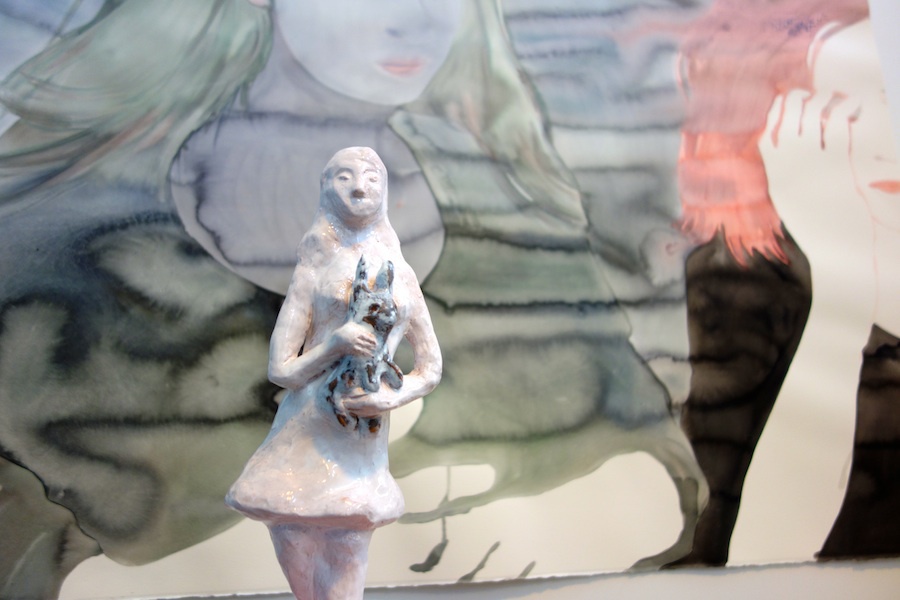 Francoise Pétrovtich
Pétrovitch (b. 1964) lives and works just outside of Paris in the town of Cachan, a short RER ride from the city where she teaches at Ecole Estienne.
Her home abuts a busy street. Upon walking through the gate, all is calm. To the right is her home, but it's to her studio we are drawn, a contemporary structure overlooking a lovely garden. Inside, it's truly her world -- her space is precisely layered with 20 years of works in many media: painting, watercolor, ceramic, etching, glass, photos and videos. She's truly a virtuoso.
Pétrovitch's work
Her work is both delicate and sensitive and at the same time, questioning the cruel naïveté of our universe of dreams. Her works often represent the fragility of human and animal bodies, with a special focus on childhood and daily life. Familiar and personal scenes that tend toward the universal by focusing on narrative detail, without staging the landscape to which the body belongs. Pétrovitch sees no distinction between art and craftsmanship, and is always interested by layers, transparencies and colors.
Her works embody her ambivalence about life, the transience of the beauty, the vanity or the world, the foreshadowing of death and decay, the fragility of bodies, her fear of the inevitable destruction of cherished things, and her technique, especially with color washes, hints at her wish for escape. Each work, she says, starts with the search for art, which then leads her to choose her medium, and ultimately the work itself.
Representation
Pétrovitch's works débuted in the mid-90's at Galerie Polaris, then RX, and now Galerie Semiose, where she is represented by Benoît Porcher, a former student from École Estienne school of applied art.
Financial awards
She has consistently received a generous level of support from French regional contemporary art funds and art centers, with exhibitions throughout France including in Caen, Toulouse, Annecy, Pougues les eaux, La Rochelle, and Saint-Claude. Her larger exhibitions include: Musée d'Art Moderne of Saint-Etienne (2008), Chapelle de Thonon les Bains, Musée de la Chasse et de la Nature, Paris (2011) and a residency at Manufacture nationale de Sèvres for ceramics.
Shows & holdings
She's had international solo shows in Rome, Berlin, Japan and New York at French Institute Alliance Française (2012), and is held in many public and private collections.
Currently, she's exhibited in Bruxelles at Galerie Antoine Laurentin and at Institut Bernard Magrez in Bordeaux (catalogue «Échos» Fr/Angl., Beaux-Arts de Paris éditions) . A big solo show is planned in Musée des Beaux-Arts de Chambéry, her home town, in 2014.
Buying in the atelier
Before you go
The first question is always, how do I get invited to an atelier?
Well, ask your art advisor if you have one, if he or she has access to any artists' ateliers, or suggest names of contemporary artists you'd like to meet. You may know or meet artists, and by all means ask if they're interested in a visit.
You should know when you visit an atelier that the artist has likely spent considerable time tidying and preparing for your visit, hanging and organizing works. So be mindful that not only have they spent time in advance of your visit, but you're cutting into their working time.
Also know that some ateliers get quite chilly during the winter -- dress appropriately!
If you want to buy something you see at the atelier, here's what you need to know:
If the artist is represented by a gallery:
the gallery is usually representing the whole work of an artist, even what is still at the atelier and even if the sale is happening totally without its intervention. Then, you can see the various pieces and then proceed by buying and paying through the gallery (which will take the usual 50% of the price).
It could occur that the artist and his gallery have an agreement only on few pieces or a particular series only, then you can buy directly from the artist as the work is outside of the gallery's agreement. Expect lower prices in this case.
If the artist does not have gallery representation:
She or he is the only one in charge of discussing the price and the way of payment. Be ready to face such problems as: unset prices, lack of will to sell, etc. It is easier to manage once you develop your buying experience.
If you have an art advisor:
If you don't have your art advisor on retainer (meaning paying on a monthly or percentage basis), he/she will or negotiate his/her commission with the gallery or add it to the artist's price if the artist is unrepresented.

Reminder: if you are buying as a foreigner for delivery outside of France, you shouldn't pay the French VAT. It may become important as the government is considering raising that tax from 5 to 10%.